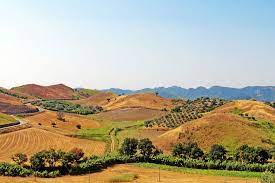 Calabria
Vineyards in Calabria wine region covers only Only about 9 000 hectares But nevertheless, the viticulture in Calabria is something special as well as the experiences you can find there. In no other area have so many indigenous varieties been preserved as here.
The local landscape is mountainous, and this has led to fragmented land ownership and widely dispersed vineyard zones. The Apennine Mountains the form the border with Basilicata provide a physical barrier to the hot winds from the north.
The climate here is distinctly Mediterranean. The proximity of the Ionian and Tyrrhenian Seas keep winter temperatures mild and helps to moderate the temperature throughout the summer months. Rainfall here is scarce and irrigation is often essential.