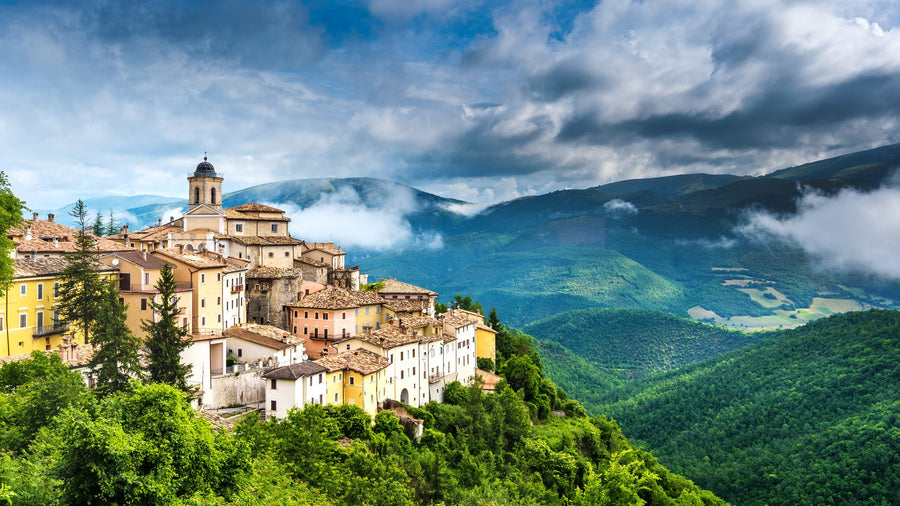 Umbria
Umbria, like Marche and Lazio, is best known for its white wine production. Despite changes in style over time, the Orvieto DOC (based on the Trebbiano grape) remains the most important appellation in the region. Although best known for its white wines, Umbria has two top DOCG appellations for its red wines. The native red Sagrantino grape has gained prominence in the Montefalco region, creating wines of great depth and power. Lately Umbria has also focused on Cabernet Sauvignon, Merlot and Pinot Noir for the reds, and dry white wines from Chardonnay. Several Umbrian wineries also produce blends of Chardonnay and Grechetto fermented in cask.
The climate of Umbria is similar to that of Tuscany in that it is distinctly Mediterranean. It experiences cold, rainy winters and dry summers with abundant sunshine to ripen wine grapes. Although temperatures are mild throughout the winter months, Umbria is one of the coldest regions in Italy thanks to the annual average temperature of a mere 13°C. The exception to this is the area west of Perugia. Here temperatures are moderated by the waters of Lake Trasimeno, the largest lake on the Italian Peninsula.
The majority of the region's vineyard plantings are placed along terraces cut into the hillsides. This is reflected in a number of the area's DOC names (colli means 'hills'). The slopes allow for vignerons to cultivate with a favourable aspect for the microclimate and grape varieties chosen. Vineyards planted at an altitude experience a significant change in day and night time temperatures creating ideal conditions for producing the elegant, mineral white wines the region is known for.