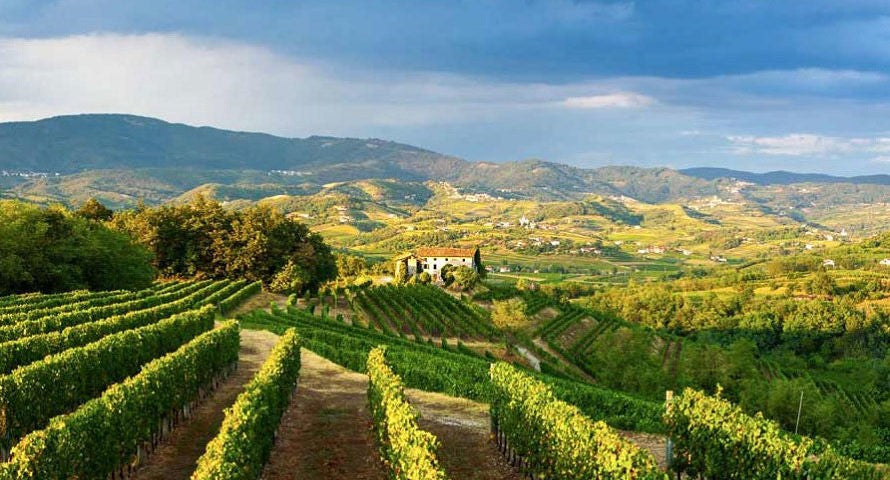 Friuli
Friuli wine is a wine produced in the Friuli-Venezia Giulia region of north-eastern Italy. The Friuli-Venezia Giulia region is bordered by the Alps to the north, which separate it from Austria. Slovenia borders the region to the east and the Italian region of Veneto forms the western border and part of the southern border with the Adriatic Sea. The northern half is very mountainous, giving way to flatter terrain and plains towards the sea. The climate is characterised by very hot days and cool nights which help to maintain a balance in the grapes between acidity and sugar levels and allow the grapes a long and slow growing season.
Since the mid-1990s, there has been a renaissance in the production of amber wine in Friuli, which involves leaving white wine grapes to macerate with their skins for a long time. The resulting wines contain a hint of colour pigments that give them an orange hue.
Over 30 different grapes varieties are grown in the Friuli-Venezia Giulia including international varieties such as Chardonnay, Cabernet Sauvignon and Merlot as well as local varieties like Refosco dal peduncolo rosso, Schioppettino, Friulano, Ribolla gialla and Verduzzo. Of the local varieties, Friulano is the most well known and important variety, producing crisp, floral wines that develop notes of nuts and fennel as it ages.