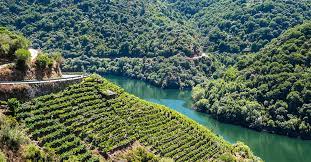 Galicia
Galicia is one of the 17 first-level administrative regions (called comunidades autónomas) of Spain. It occupies the northwestern corner of the Iberian Peninsula, and is exposed to the Atlantic Ocean on two sides. To the south is Portugal, to the east Castilla y Leon.
Shaped by the waves and winds of the Atlantic, the Galician coastline is spectacular; steep cliffs alternate with coastal coves called rías. The interior of the region is characterised by green hills that rise gently eastwards towards the Cantabrian Mountains, reaching heights of 2,000 metres (6,600 feet). The region is often called the "green corner" of Spain, and the "land of two thousand rivers"; most of the region's vineyards are located in the valleys of the Miño River (Minho in Portugal).

Cool, wet winds from the Atlantic make Galicia one of the wettest regions in Spain. The coastal areas receive more than 1,300 millimetres (50 inches) of rain per year. Fortunately, Galicia enjoys abundant sunshine (more than 2,000 hours of sunshine per year on average), without which it would be very difficult for the grapes to ripen. Despite this, very few red grapes can reach full maturity here, so Galicia produces mainly white wines, both varietals and blends. Besides Albarino, the main white varieties are Loureiro, Torrontes, Godello, Treixadura and Caiño Blanco - an obscure Galician often confused with Albarino. Red wines are only produced in the warmer inland regions and are generally light and made from Mencia.

Galicia has five wine-growing areas classified as DO. From west to east, these are: Ribeiro, Ribeira Sacra, Monterrei, Valdeorras and the most famous, Rias Baixas, each with its own specialities and traditions.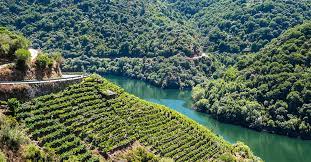 Sorry, there are no products in this collection.