2022, Styver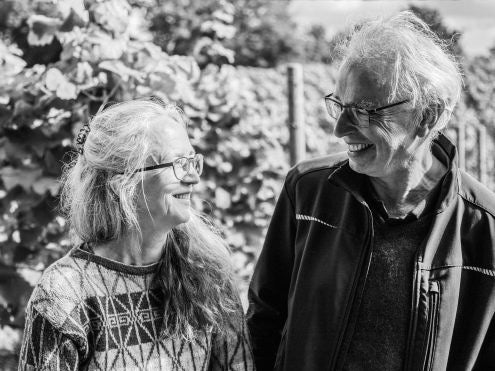 Vejrhøj Vingård
Vejrhøj Vingård is located in one of the most beautiful places in in North Zealand, Denmark. Nina and Niels founded Vejrhøj Vineyard in 2011, where they realised an old dream of working with plants. As the climate here is perfect for growing grapes, they quickly decided to take up on wine production.

They are both graduates in economics and have worked for many years in leading positions in the financial sector, although Nina went to the College of Agriculture. In recent years, Niels has followed courses at the Agricultural College and the Wine Academy, and in 2016 he passed the Wine Academy's sommelier exam.

They take care of the daily management of the vineyard and winery but it is planned that their children and their families will take over the winery at some point. It is for this reason that they are getting more and more involved in the farm's activities.

To ensure extra experience and a professional approach, they have also hired the German oenologist Jens Heinemeyer as winemaker.
They primarily make white wines, but also produce some rosé wines from blue grapes. Some wines become sparkling by allowing them to finish fermentation in the bottle. They treat their grapes and wines as gently as possible and use traditional, simple methods.
Their wines are single-field wines that bear the stamp of the nature in which they were created. The grapes are all grown on Vejrhøj with lots of hours of sunshine and a mild climate in spring and autumn thanks to the proximity to Sejrø Bugt.
The individual wines appear with different character from year to year, reflecting the weather and conditions of the individual growing season.