2021, Campana Blanc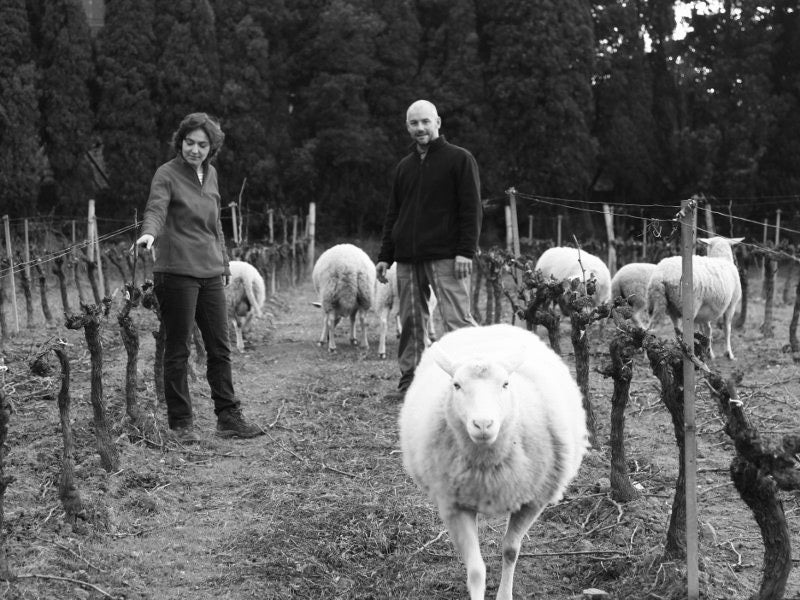 Château Beauregard Mirouze
France · Languedoc · Bizanet
Imagine a natural park of over 700 acres in the rocky hills above Corbières. In the center of this private reserve owned by the Mirouze family for over a century, surrounded by forest and garrigue, you'll find 50 acres of isolated vineyards. Nicolas Mirouze took over this family domaine in 2000, though prior, all of the grapes were sold off to négociants. Alongside his wife Karine, the pair spent the next decade gradually bringing the soil back to life and converting the domaine to certified organic farming in 2010. In 2019, the estate also became certified biodynamic. They make all of their own compost, keep sheep to graze in the vineyards, and ensure biodiversity by planting hedges around the vines.

As young winemakers, Nicolas and Karine began producing the excellent value Campana wines, which are typical of Corbières. After an eye-opening visit with some of the best biodynamic wines in Burgundy, they were inspired by their tastings and pushed their winemaking further, constantly asking themselves how they could farm better and make better wines.

A chance event during the 2014 harvest enabled them to begin making the low sulfur, natural wines they had imagined. They had nearly finished the harvest, save for a small parcel of their best old vine Syrah. At night, a huge rainstorm passed through, which blocked access to the vineyard. When they returned to harvest a week later, they seized the opportunity to make a micro cuvée: 1500 bottles of Syrah using only natural yeast, no pumping, no filtration, and only a tiny bit of SO2 added at bottling. They called it the 'Cuvée Sol,' a reference to their focus on bringing the soil back to life. Today, this cuvée is a blend of old vine Syrah and Mourvèdre, and is their earthy, richer natural red wine.

Since then, they have added the cuvée 'Ciel de Sud' (The Southern Sky), a lighter style red wine made primarily from north-facing vineyards and very little extraction to keep freshness in the wine. The range continues to evolve with the Rouze, Blouze, and Petouze wines, which offer lightest extraction and maximum glugability.

Karine and Nicolas continue to produce the Campana Corbières wines under the historic Chateau Beauregard-Mirouze label, while the more personal, natural wines are bottled under Karine & Nicolas Mirouze and feature artwork by a local artist, Philippe Nivez.